About Phyllis

Phyllis Gricus is the principal of Landscape Design Studio, in Pittsburgh, PA, A firm dedicated to creating sustainable and imaginative gardens for all seasons. Their collaborative process will help you integrate your garden into your home and life and transform your landscape into a garden environment for healthy living and inspiration.
After completing the Phipps Master Gardener Program, she continued her education as a student of the Landscape Design and Horticulture Program at Allegheny Community College, South Campus. Pursuing her passion has led her to many professional development seminars, including Landscape Ontario in Toronto, at the Kinman Institute in Columbus, Ohio and at the yearly educational forums of the Pennsylvania Landscape & Nursery Association in State College, Pa.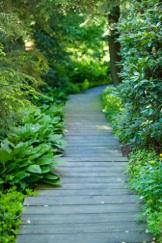 Phyllis's devotion to professionalism has led her to membership with the Association of Professional Landscape Designers and the,. She is a regular contributor to Housetrends Magazine Landscape Trends column. Starting in spring 2012, you can read her blog on Garden Web.
She has also served as Consulting Horticultural Director to Kentuck Knob; a residence designed by Frank Lloyd Wright in the Laurel Highlands of Pennsylvania.
Phyllis has an abiding interest in educating the public about the value of good landscape design and sound horticultural practices. She is an active volunteer with the Pittsburgh Botanic Garden—a garden in the making. Phyllis serves on the Communications and Plant Sale Committees for the benefit of fundraising and furthering efforts towards developing and opening the garden.
Phyllis is available to lecture. Her lecture repertoire includes such topics as:
Garden for a Rainy Day: how to create a beautiful & environmentally beneficial rain garden
Bulbs in Containers
Container Gardening
Enable: to create an opportunity to do! Adaptive Gardening Methods
Gardening in Deer Territory: Or How to Exorcise the Devil Deer
Winter Pruning Primer
Putting Your Garden to Bed
Viagra is one of the best-known remedies of all day. You may have heard about purchase viagra in Canada Probably you already know about the matter. Sexual disfunction can be a result of a psychological status. Even when it has a physical cause, psychologic condition can make sexual problems worse. Such problems usually signal deeper ills: sexual hurt or erectile dysfunction may hide a earnest soundness problem such as heart trouble. Depression can dampen your desire and can lead to erectile malfunction. It affects all facets of life including sex drive.